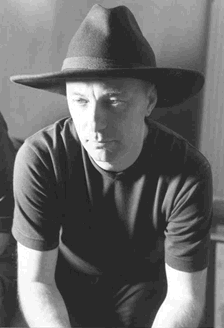 A history of songs from the 'Pool and other places
Songs, songs and more songs. Not everyone wants to write their own material. Some think songs are only 'good' when they are on a bestselling album or CD. But songwriting for the sake of making music always seemed to me to be a good idea. So why not do it?
Like many people growing up in Liverpool in the 60s it was difficult not to be influenced by the Beatles. But earliest efforts in the 1970s, written on a battered old acoustic guitar, were perhaps more in tune with Dan Fogelberg, Jackson Browne, Little Feat, Joni Mitchell and the Eagles. These largely remained at home, unheard, on an old cassette recorder. But even as the PA was blowing up at our first gig at Liverpool University Catholic Chaplaincy, my earliest working band was playing a group-penned instrumental.
There followed a period of regular gigging with a variety of bands in the mid-70s. Group names such as Buffalo Bill perhaps pointed the way to the future, even if I didn¹t know it at the time, and even if we did play at the Red Star Social Club in Liverpool. There was a number of cover versions, but also many original numbers such as 'Highways', written by me about bumming around America on a Greyhound bus (although not to St Cloud). I visit America at least once a year now, but still haven¹t been on one. Band names changed, came and went. Some, such as Flying Blind, went on to Indie chart success as Walter Mitty¹s Little White Lies, without me of course. So did the venues. Liverpool bands no longer shout 'Group for The Moonstone' at the entry to St John's precinct and collect 10p at the door. Liverpool no longer has the delights of The Sportsman, The Star and Garter or The Masonic in the city centre, although of course The Cavern has been rebuilt.
By the late 70s and early 80s the times were a changing and so was the material. Teaming up with Hugh Lynch, a Liverpool singer and writer of theatre shows, new material was written for our working band Recent Penguins. However, songwriting and playwriting seemed to be a good fit. So we moved into theatre shows. Our first effort, the Cosmo Show enjoyed two extended runs at the Unity Theatre Liverpool, working with a local Theatre group. A Radio Merseyside program even wasted a full hour with an interview and played the songs from the show. New plays were written such as Open Secret as well as an update of the Phantom of Paradise. All included new songs. So not to show a scouse bias, these have been performed as far away as Maidstone in Kent and in East Anglia near Norwich. A show based on David Bowie's Ziggy Stardust featured a singer, Billy Frank, in a denim (or was it a leather ?) jacket. But see later for more on this.
In the mid-80s there was a total change of scene geographically. A move to Essex and a new writing partnership. But still more songs. Working with songwriter Andy Baker (AKA Andy Boulanger) the group Basement, wrote and recorded the cassette The Weber Collection. This attracted some interest from record companies in the South. In the end the self-produced album was released independently and distributed through the Parrot records network in the south East with some success. There was even a move into instrumental work and a few songs for a dance troupe. Not line dancing - but getting there!
In the mid-1980s a move back to Ormskirk, previously only visited as a drunken student, coincided with the first incarnation of Altimira Studios in a converted loft. This was the days of 4 track tape and the use of the 'bouncing' technique so loved by people with limited recording facilities. However, more songs for theatre shows and songs played on Radio Norwich (although not abused by Alan Partridge) were followed by the recording of two CDs of original songs, Face to Face and Missing Pieces with singer Janette Horrocks. Two songs were also written for the roots band Mr Blundell¹s Alms and included on the album 'Cobbled Together' - 'Don't Need You Tonight' and 'Hands of Time'. These songs, along with 'Middle of a Nightmare', were exhaustively trawled around by a Liverpool agent, unfortunately with limited success. Four songs were also written with Dave Heywood and Kathy Powell from Liverpool band Rhapsody/Adrenalin on the 'Heartbeat' cassette.
A brief stint with Preston Soul blues band Borderline was followed by the recording of the Hard Work CD at Altimira. One song was co-written with Mike Haralambos formerly of Liverpool 60s band Almost Blues, which also featured Al Willard Peters of Lawmower (co-founded by Mick Hucknall of Simply Red). Mike went on to form Good Time Records, recording US soul blues artists and to co-own a recording studio in the USA. Singer and co-writer of material on Hard Work was Andy Parker, no1 artist in Australia and front man with the Dream Team and the A Team.
And after all of this, a leather jacket in Ormskirk that reminded me of someone I knew years ago, Billy Frank, led to discussions about future song writing projects. A brief collaboration on backing music for a comedy video was the forerunner for writing music we both agreed was something new and exciting - New Country - which has since crossed into the mainstream US and UK charts. Being signed by a Nashville company and being part of a CD released in the US is a long way from the battered old cassette player. Playing tends to be intermittent, although a regular haunt once a year seems to be The Cider Shed in Banham, East Anglia.
And the rest is history. Altimira is now 16 track with 24 track a future possibility. Some of the equipment even goes up to 11. Perhaps I should have written a song called 'Babylon' earlier in my career, but then what do I know.
Over the years I have worked with many bands and many people but would particularly like to thank Hugh Lynch, Mike Kidson - Saxophonist extraordinaire, co-founder of Liverpool based Frank Zappa cover band the Muffin Men and member of the Liverpool and first London 'Blood Brothers' band, Janette Horrocks and Billy Frank, who have worked on many of my songwriting projects. The success of the New Frontier project could not have taken place without the efforts of Julie, Gary, Peter, Gareth, Andy, Will, Caroline, Michelle, Janette and of course Billy. Thanks also to Steve Wardrip at CTC for believing in us, all at J-Bird Records in the USA and anyone who works with us in future.
And in 2002 came a (marvel) team up. We are delighted to be working with UK country artist Ronny J Morson – a man with the best recording voice I have ever heard (take a bow one-take Ronny). I can't believe he hasn't been signed up by a US label yet given the quality of his singing and his ability to interpret country songs.
Anyway, their loss is our gain. The new CD 'Wall of Sound' will be available from December in the UK – our first UK release. So far the initial reaction to radio airplay and in country clubs to our promotional singles from the CD has been very good. So now it's up to the public to decide if this stuff is as good as we think it is.
And my thanks to all the great musicians and helpful people who have contributed to the new CD. Your names appear in very smallprint on the back – but I'm sure you will find them.
Watch this space for further developments in the saga. Nuff said.
Dave