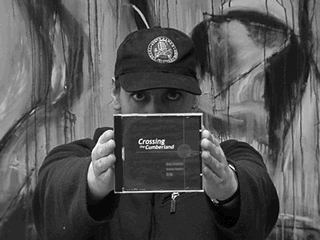 "Didn't you used to be Billy Frank?"
From the Beatles to Lynyrd Skynyrd, from Level 42 to Kiss, from Dokken to Counting Crows, from Prince to John Mellencamp, from Aimee Mann to David Bowie, from Steve Earle to Martina McBride…. With such varied tastes in music - How did I end up writing 'New Country' songs with Dave Gray?
I suppose I was always surrounded by music as a kid growing up in Liverpool. The first record I remember playing was my Mum's copy of the Beatles 'Please Please Me' album. There was this mono 'Fidelity' record player in our front room - I played that album to death (my favourite Beatles song to this day is 'Misery' - or is it 'Yesterday' or 'In My Life'… Is it actually possible to have a favourite Beatles song?… or a favourite song for that matter???). Anyway as an older kid in the late 70s I rocked - Lynyrd Skynyrd, 38 Special, Rainbow (I still think Ronnie James Dio has the best rock voice in the world), ZZ Top etc. I still love that music. I discovered Kiss in 1979 and was mesmerised by the 'Dynasty' album - looking back I suppose it wasn't rock - Kiss were (are?) a pop band - writing some fantastic songs (More about 'fantastic songs' later).
It was at the same time I started playing bass and formed my first band with my mate Russell Quirk. We both decided we would ask for guitars for Christmas presents - we even decided who would get the guitar and who would get the bass! We never ended up actually being a band - but we did rock!
In 1981, and while still at school, I auditioned for a part in Dave Gray and Hugh Lynch's 'The Rise and Fall of Ziggy Stardust' production. I got the part and sang lead vocals for the first time! I think more than anything else it was this production that made me get into forming bands much more seriously. One of my co-performers, Karl Bowry, would go on to found my first real band, 'The Greed Hornets' after the Bruce Lee TV series. We did Rock 'n' Roll covers - from Elvis to the Shadows. We played three gigs I think - and a tape still survives of a classic performance at St. Malachi's Church Social Club in the Dingle.
I soon found myself in 'Discipline' with another member of the Ziggy cast, Paul McMonies. We did original material - I was now co-writing songs with other band members, getting a feel for writing melodies over chord progressions, and putting lyrics together. Along with the drummer we then went on to form 'A Singer Vogue' (it was a car apparently), and yes - it was a very silly name - but it was the mid-eighties by then!!
Then there was 'Ryan' - I never understood why the band was called Ryan - but we were. We were together for a few years - we recorded at Amazon Studios, we were featured the 'Waterloo Road Studios - Ways to Wear Coats' Album, we knocked on lots of A'N'R doors in London - but never really made it. I can still listen back to that stuff - we had a good, if rather eclectic, group of musicians. From Ryan I went on to join 'Heaven Tonight' - things were getting serious. We signed to a management company, we got a publishing deal, we played some awesome gigs, and even got Jennifer Warnes to record one of out tracks! Working with Heaven Tonite's lead singer, Dave Lloyd definitely helped me to hone my song writing skills - I really began to learn the art of 'quality control' - i.e. what makes a good song good - what ides to use and what to discard (Dave also introduced me to the music of Aimee Mann - cheers mate!)
After a brief stint in '56 Kiss' with Phil Armorgie, the drummer from Ryan, we went on to link up with 'The Sex Kittens' who needed bass and Drums. After some good recording sessions at 'Bus Stop Studios' in Leigh we split up over musical differences! (I won't spell these out for fear of a possible Law Suit!). Phil and I - along with Lil' Phil (guitarist from the Sex Kittens) teamed up with the utterly brilliant guitarist Pete 'Kurt' Frank (my brother - who had previously played with Liverpool legends - 'Sian') went on to form 'Power House'. We rocked in a big way - we won the national Radio One Rock Wars Competition in 1990 and went into the BBC Maidstone Studios to record a session that went out on national radio. With some solid management we toured - playing just about all over the country - but due to the lack of brain cells possessed by our lead singer who joined a 'caberet' band we were forced to call it a day when no replacement could be found.
I thought that was going to be it - In 1991 I decided to finally go to college and ended up studying history in Ormskirk. In 1994 I started attending a church in Ormskirk (OCF) and there I met Justin Ruscoe and Dave Smith - a brief jam after one Sunday morning service convinced us that we could form a band - we did and 'RDA' was born. We played at the Greenbelt and Cross Rhythms' Festivals, we were also featured on the Greenbelt CD in 1996. We played together for almost four years and called it a day in 1998 as we felt we had done as much as we could.
I suppose that without RDA - New Frontier would never have come about. We (RDA) were unloading the equipment after a lunchtime gig at a local school when someone tapped me on the shoulder and asked "Didn't you used to be Billy Frank?" It was Dave Gray. Our paths had last crossed in the Virgin Megastore in London's Oxford Road in 1986!! Dave had to tell me who he was - the last time I had seen him he had plenty of hair!
We collaborated on some music for a cable show - as we talked and caught up on what we had been doing in the ten years or so since we last met - we found that we had both been listening to and buying albums by artists like Martina McBride, Trisha Yearwood and Faith Hill. What had these artists in common - they were singing brilliantly written songs. Could we write songs in the same vein? We decided to have a go… New Frontier was born.
Writing and recording songs with Dave at his studio has been and is a lot of fun (and hard work). Between us we were able to pull together a band of musicians to record our songs - we really 'fell on our feet'! Those musicians were great to work with and really helped to define our sound on the first CD 'Goodbye to Yesterday'. I think we sent out 3 copies of the CD to companies in the USA - that's all it took!!! We were contacted by Steve Wardrip at CTC Network, he liked us, believed in us, signed us! We've never actually met - everything has been done by email! Steve - we're coming to see you soon - honest!
Our songs, I think, are getting better all the time - look out for detail of our new CD 'Heartbreak Road' coming soon! Check out our message Board if you want to drop us a line.
Peace, Joy and Food!
Billy Frank (April 2001)