Billy Frank and Dave Gray are New Frontier. A chance meeting after 10 years brought them together. They had previously worked in bands with record contracts, on theatre shows and writing songs recorded by US artists. They found they had the same musical tastes and New Frontier was started in the mid-1990s as a vehicle for country material aimed at the US market. In 2000 they were signed to The CTC network in Nashville and released songs as part of the US album 'Crossing the Cumberland'. They also joined the US songwriting group TAXI.
Ronny J Morson is a UK based country singer and songwriter. He has successfully toured for many years and released his own albums for sale in the UK.
Ronny J Morson and New Frontier have finished writing and recording material for their collaborative CD 'Wall of Sound' which is now available for sale in the UK. Ronny is currently performing these songs live at UK venues.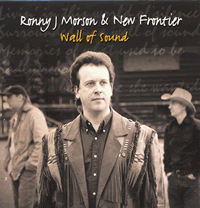 Out now!
"Wall Of Sound" by Ronny J. Morson and New Frontier is available to buy now
Still Available
"Crossing the Cumberland" from
J-Bird Records by New Frontier and other artists


New Frontier skin for WinAmp